Fiam: since 1975 garden furniture Made in Italy quality
For forty years, Fiam has been producing items to give shape to the pleasure of living in comfort areas, all with a passion that is just as rust-free as the metal used since the outset.
The Fiam's success actually comes from far away, when a young mechanic called Francesco Favagrossa expressed himself in a field that is very fashionable these days: recycling; he used to go round collecting American military motorcycles that were heading for the scrap-heap and he re-assembled them, creating original "motorbike-patchwork" which he would sell before he had even finished. In 1975, alongside his sons Ennio and Silvio, he launched his first outdoor items in metal and, still to this very day, every item expresses the target of sobriety and a bearing on the essential, which Fiam and its founder, still present and active within the company, have always aimed at.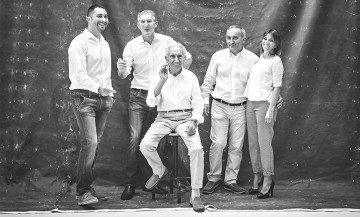 An entire Italian tenacity
Characteristics that are part of the corporate DNA, even before the objects, distinctive elements that the market of Italian and international outdoor has recognized and rewarded immediately. Intuition, method, tenacity, the continuous search for technical solutions and much work constitute the backbone of a company that believes in the indisputable quality and in the whole Italian production.
In the course of the years Fiam has reached and patented important technical innovations. Millions of copies were requested throughout the world, we have achieved quality certifications, we produce clean energy, our choices have become increasingly aware of responsible production and low environmental impact. We have optimized the logistics with the rationalisation of transport and the reassortments are always more attentive to the needs of customers. We tend to continual improvement and we continue to hear our design of substance.