Quality and Certifications
Fiam, leader company in the field of outdoor furniture, produces and distributes outdoor furniture for superior quality, in the sign of the design. With a strong attention to the functionality, with a true vocation for what is simple, practical, essential.
Since its debut, Fiam has done its own values of quality, comfort, service and design, creating and patenting the best sittings, today sold throughout the world. Products such as BITTER, FIESTA, AMIGO, SAMBA and MOVIDA are, at a distance of years, still present and recognized leader in the outdoor, so much so as to be a point of reference for the operators of the sector and for the same competitors.
The entire chain of work is strictly Made in Italy, from more avantgarde technical solutions to the choice of materials, together with a careful control of the different processing steps, to guarantee its guests the maximum security and solidity. Steel and aluminum high resistance, technical fabrics of high level and accessories in carefully selected materials, are conjugated to obtain the maximum lightness and durability of the product. With this Made in Italy supply chain, Fiam is able to ensure the highest levels of quality and originality of the products. It also contributes significantly to the sustainability of their products by reducing transport distances and using the rail transport and covering a large part of its energy requirements with photovoltaic plants.
To resellers and distributors of outdoor furnishings, Fiam offers an attentive and reactive service and the possibility of restocking even during the high season.
Certification UNI EN 581-3:2017
FSC is an international certification, indipendent and issued by a third party, specific to the forest industry and to products (timber and not timber) devived from forestry.
There are two types of FSC certification: the certification of forest management for forest owners and managers, and the certification of custody chain for forest products' processors and / or trade.
Responsible forest management brand.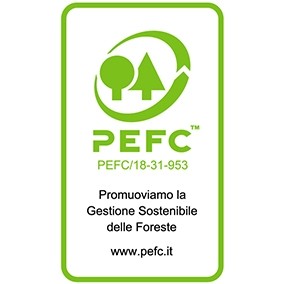 Forest Management certification is a a recognized and proven verification procedure, carried out by an indipendent part, aimed to issue a certificate attesting that the forest management comply with specific requirements of "sustainability".
A crucial problem in the eco-certification system is the definition of the criteria and indicators of "sustainable forest management" (SFM), namely quantitative and qualitative parameters that, when periodically measured or observed, allow the evaluation of environmental performance and sustainability of forest management systems.