FIESTA THE QUEEN OF RELAX
Fiesta has been an Icon for over 40 years. The first model was designed by Francesco Favagrossa in 1977, during these years from the basic model, Francesco Favagrossa has been creating lots of variations.
The frame can be in chromed or painted steel, perfect for covered outdoor and indoor. Aluminium version is lightweight and suitable for every type of outdoor background: from a poolside, to garden, sea, lake or mountain. Fabrics and paddings are realized with technical weather resistants materials.
"X" is its chiffre stylistique, a pivot in the crossing of the two axes creates the entire system, on this immediate and smart mechanism are posed the two big plus of this chair, a receiving without compromises and an incomparable practicality in closing and transporting the deckchair. The lightness of the frame and that exact bending that makes Fiesta an anatomical sitting, particularly comfy for the cervical segment, and it's adjustable in 4 different positions.
It will be the ideal partner for some chatting in company, for lectures in open-air and in every moment of simple and bracing rest. When think about Moka when you see a coffee, you think about armchair Fiesta when you want to relax. When you want to sweeten your coffe there is sugar, and when you want to sweeten you relax in addition to Fiesta there is Chico.
CHICO, THE PRINCE OF RELAX
Where there's Fiesta, there's also Chico! It's the outdoor footstool that borns from the same stylistic mold of the armchair Fiesta, and goes with it to make the relax even more satisfying, because the legs can be lifted and immediately feel a benefit for their circulation. It can become a practical point of support for magazines and trays, and gives an additional sit in case of unexpected guests or necessity.
Chico is available in 3 versions: standard, soft, leather.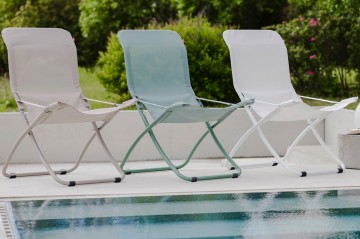 The tone on tone color makes the product design even more refined and incisive, achieving an assertive, monolithic result. The same gradation of colors of the frameand fabric demonstrates absolute choice, along with colored detailscontributing to the total cleanliness of the design. The range tone on tone is available in total black, white, sage green and taupe.
AMONG NORTHERN NORWEGIAN FIORDS
In Ersfjordbotn village, located in Kvaløya island, there is a conceptstore (Bryggejentene), which is the northernmost Fiam's retailer in the world. There you can relax on a Fiesta, drink an hot delicious coffee and stop yourself for a while admiring the beauty and the peace that surrounds you. We are proud to announce that Bryggejentene Fiam's bestsellers are FIAM FIESTA an FIESTA SOFT.