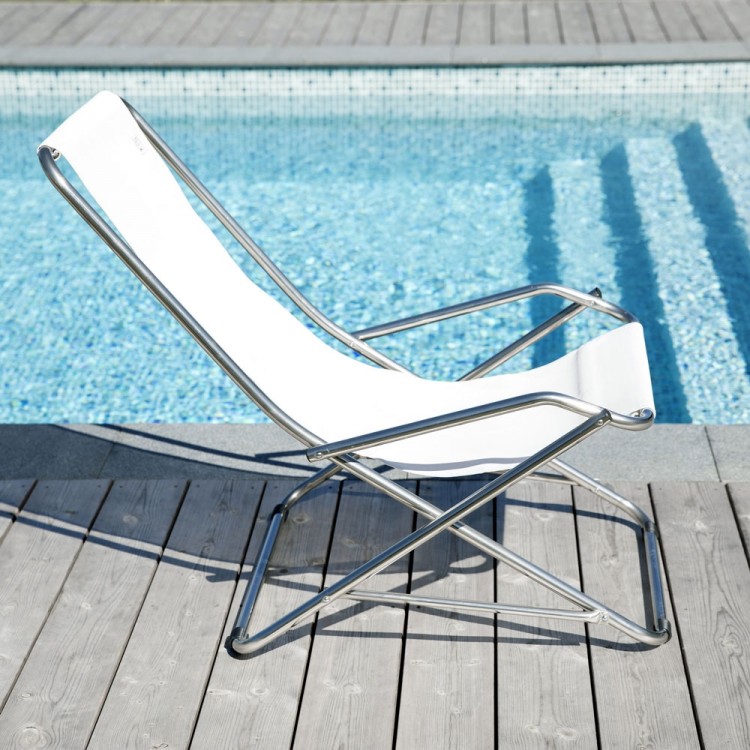 Dondolina&Dondolina Twin - "Watch me while I'm rocking"
Rigidity is not its strong suit, while stability yes !
Dondolina is the swinging armchair designed to follow users movements.
It is perfect for conviviality and conversations thanks to its relaxing and supporting position. This armchair is lightweight, foldable and and easy to carry. Designed both for domestic and contract use. Its cleaned lines along with the oscillating movement of the deckchairs Dondolina ensures a comfortable and relaxing seat with a minimalism touch.
Swinging relax armchair thought for every need
Foldable
Space-saving
Light-weight and easy to carry
Easy to clean
FROM THE SEA TO THE MOUNTAIN
You can go everywhere with Dondolina, thanks to its lightness and its save-spacing dimensions it is really easy to carry and place.
To relax breathing fresh air, to read a book in your garden or by the sea, to rest on Dondolina while the sun warm your face, to stop for a while from this chaotic world observing the beauty of the nature around us. To go camping with your family or to go out just for a pic nic.
Dondolina is designed for several uses and it is suitable for everybody. To stay outside has never been so pleasant!
Swinging outdoor armchair Dondolina is meant for two. Thanks to its balancing system it provides an excellent comfort. It is foldable, space-saving with steel frame
ADVANTAGES
Foldable
for 2 people
Space-saving
Light-weight and easy to carry
Easy to clean
Dondolina from the heart of Tuscany Maremma
Vallicella Glamping Resort is located in the heart of Tuscany Maremma. Pitches, cottages and lodge tents immersed in an old olive grove will let you experience a relaxing open-air holiday. It is surrounded by old olive groves transmit peaceful feelings.
The splendid position allow you to reach many interesting areas such as Follonica, Massa Marittima, Marina di Grosseto, beach which was rewarded thanks to the quality of the sea. The glamping holiday philosophy enjoying holidays in contact with the nature without giving up the comfort and quality. For nature lovers, for families who are looking for comfort and couples which ask for a bit of romance. Panoramic views, atmosphere and magical places are the characteristics of this experience.

Dondolina feels so good in Vallicella...