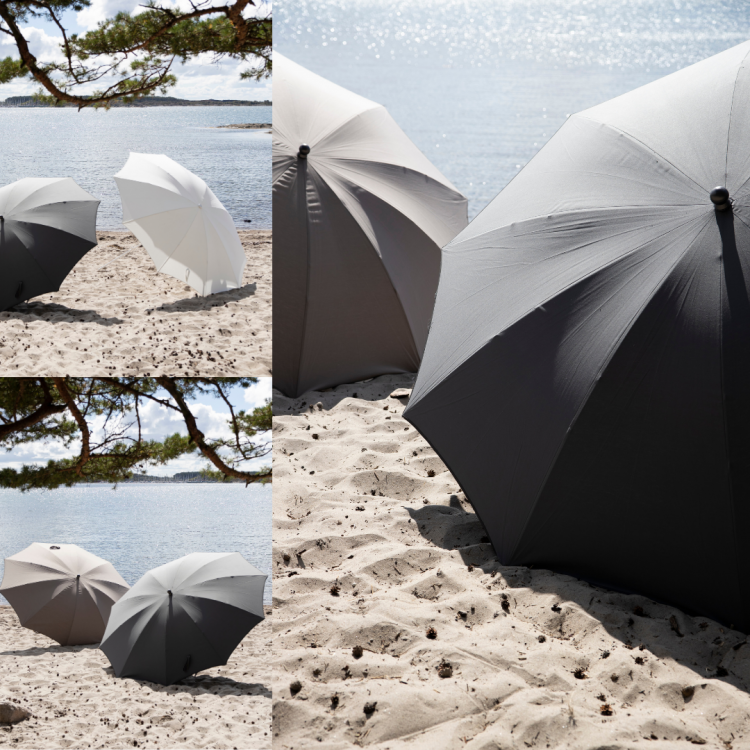 Discover our new product - umbrellas
If you like to spend time in your garden, take a rest, read a book or just to chat having lunch with your family but your garden is always under sun-light and you don't have a cover such as a portico, the beach umbrella is something you can't do without.

For this reason, Fiam decided to add the section "Beach Umbrellas" to its range, including this functional element that combined with a relax armchair is the perfect match for a relaxing summer day.

We are proud to introduce you Elios: really strong beach umbrella thanks to its robust frame available in steel or aluminium. The design of the frame (available in white, anthracite or aluminium) and the cover made with Dralon fabric or PolyMa in white, grey or taupe tone, make it an elegant furnishing accessory, enjoyable in every garden, on the poolside or on the seashore. Geometric, light-weight with a traditional but modern and space-saving shape, it is extremely refined in details and materials' quality.
When design and technical materials are combined together
they offer an high-quality product.
STEEL FRAME
Elios steel frame range is composed by three versions:
Elios 280, extra large version with 280 cm in diameter.
Elios 200, standard version with 200 cm in diameter.
Elios 150, standard square version of 155 x 155 cm
ALUMINIUM FRAME
Elios 300, extra large version with 300 cm in diameter.
Elios range with steel frame has a reclinable tilt that reachs 45°, and allows anytime to recreate a shaded area.
Both aluminium and steel versions have a very easy open and close mechanism, flexible ribs and the height is adjustable.